Top 5 Mistakes on Mobile-Friendly Websites
Monday 09 March 2015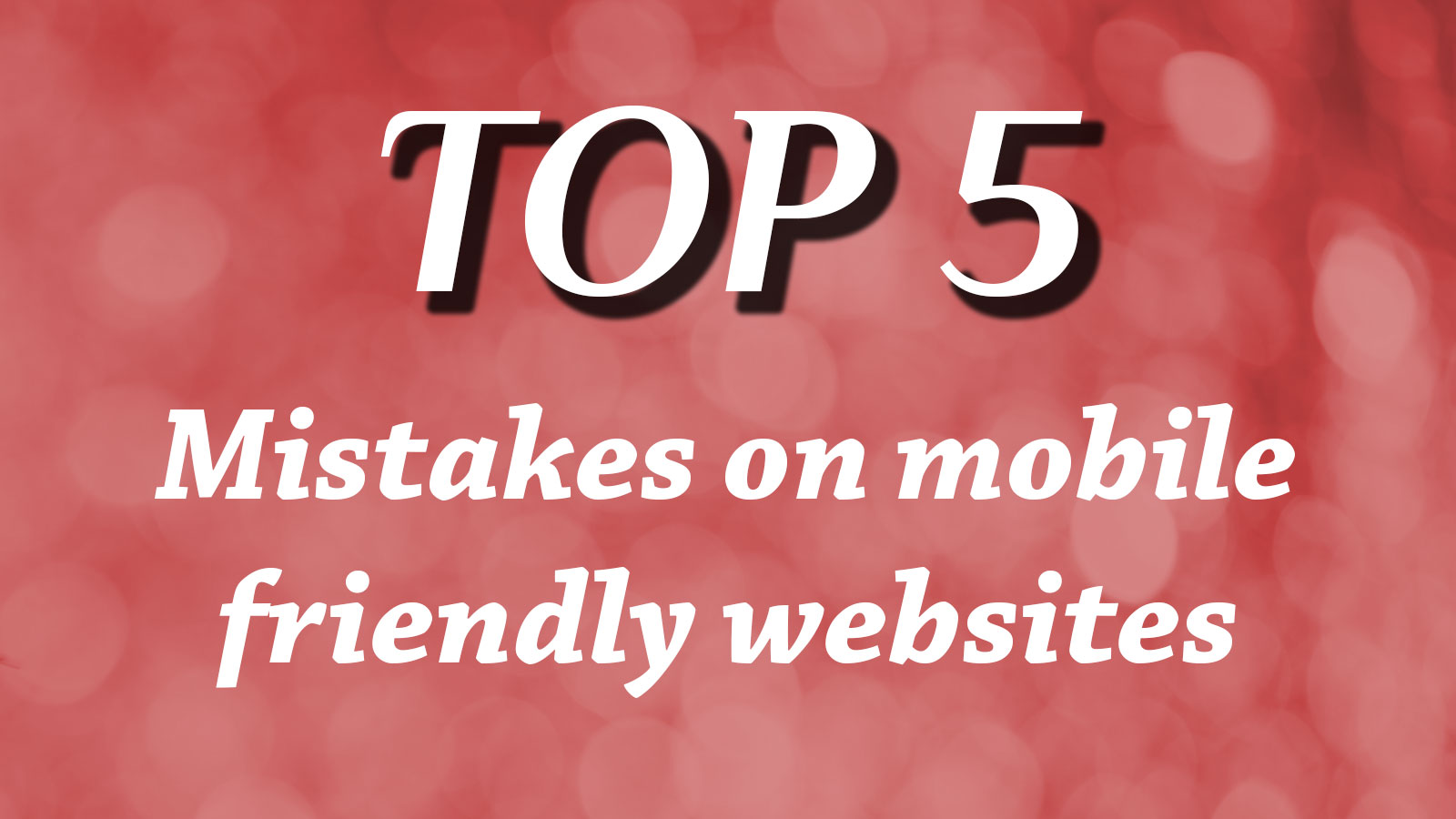 Now that Google has announced it will be taking mobile-friendly into account in its search ranking algorithms, making sure your business has a mobile-optimised website is even more important than ever. So what are the most common mobile-friendly mistakes made on websites and how can they be avoided? Here's our top 5.
1. No mobile-friendliness at all
If you've never considered whether your website is optimised for mobile, then you may well have fallen into this trap. Not all web designers will cater for mobile devices by default, so it is important to ask.
Your website is not mobile-friendly if it has a large fixed width that looks great on desktop screens but is too small to read on mobile screens, and there is no alternative version of each page that will work better on mobiles.
If you're not sure if your website is mobile-friendly, you can use Google's mobile-friendly checker tool to find out.
2. Flash content
Flash may be a little bit dated these days, but we still find a number of websites that are built entirely in flash, let alone flash-only content. For example, some interactive media used to be commonly built in flash, and many video players were once flash-only. If you have video on your website, make sure it has an HTML5 (browser-native) version of the video player.
3. Pushing users to the app
A number of websites immediately plug the equivalent mobile app when loaded on a mobile device. While apps can be very useful to users, not everyone wants to download an app just to check for some information. Make sure your website does not block mobile users from using the website generally.
In addition, although an app can be indexed by Google, it is a different medium and would not be considered a mobile version of your website.
4. Massive images and slow loading
Huge images are the trend in recent years, given the wide availability of broadband internet connections. And rightly so, because they usually look great.
However, for mobile devices, the cost of data and the patchiness of networks means that a fast connection cannot be relied upon. A website is bound to lose visitors if it takes more than a few seconds to load an image.
Just because an image doesn't look big, doesn't mean it isn't huge either. Check your images by right-clicking and viewing the image information. Often images are scaled down to smaller sizes, but the image being loaded is still the ultra-high-resolution version, so there is no reduction in data transfer whatsoever.
5. Blocking content Google needs
For SEO reasons it is imperative that your website allows search engine crawlers access to your content. Now that Google is assessing mobile-friendliness, it's also important that your website allows access to javascript and style files as well, so that googlebot can determine whether your website is mobile-friendly. Some website providers block search engines from accessing such files. If your website is doing this, then whether your website is mobile-friendly or not, Google will rank you down when its ranking change comes into effect. Use Google's mobile-friendly checker tool to find out if your website has an issue.